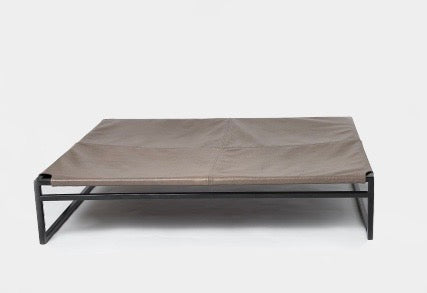 Sasha Dog Bed
$280.00
Easily mistaken for a beautiful piece of interior design, the Sasha Dog Bed looks every inch the luxury retreat. Reclining on beautiful soft leather, your dog will enjoy the comforts of having their very own stylish haven, of which only adds to your elegant interior décor.  
This luxurious dog bed has been thoughtfully designed with removable covers so you can match your interiors as often as your taste changes.
The bed frame is made from high quality metal and finished with a sleek matte black surface to add a touch of sophistication to any home.
These Australian made dog beds are not only beautiful, but are of the highest quality. The small bed will comfortably suit small to medium dog breeds with a maximum weight of 30kg. The large bed is designed for medium to large breeds with a maximum weight of 45kg.
Sizing:
Small - 71cm (length) x 46cm (width) x 17cm (high) 
Large - 96cm (length) x 76cm (width) x 19cm (high)
*Sasha Dog Beds are only available for shipping within Australia
*Free shipping is not available on this product
Care Instructions:
Leather is a natural material and therefore subject to change from hide to hide with daily use. Changes in colour of the leather and signs of wear are normal. Irregularities in this consistency and depth of the colour are not considered a fault but inherent of the natural beauty of the leather. Our leather has NOT been treated with any form of protector. Substances such as water and/or oils may leave marks and stains on the leather therefore we recommend care be taken to avoid these.
To clean your Sasha Dog Bed Cover, use a clean damp microfibre cloth. Be sure to squeeze out any excess water and avoid using any chemicals. Use water only. Gently wipe the surface and allow to dry naturally.